James Swan says "The will of the international community is not allowed in Somalia"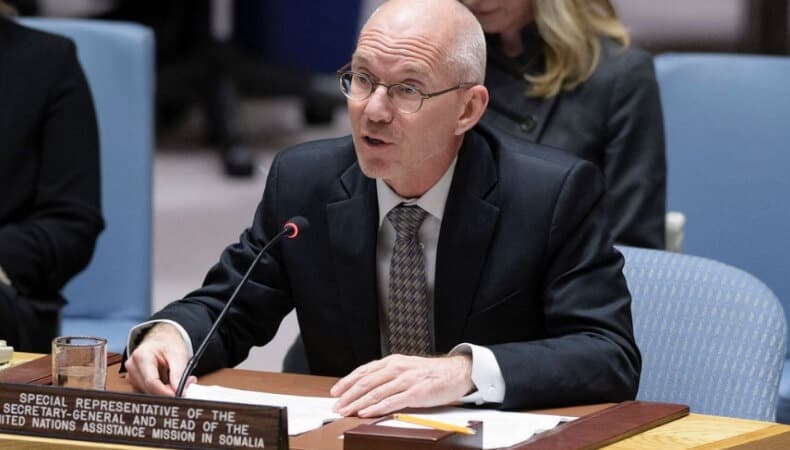 The UN Special Representative to Somalia Ambassador James Swan, in an in-dept meeting on Saturday said "The United Nations wants a different kind of election than the one agreed upon," he said in a long-running meeting on ZOOM on Saturday.
James Swan expressed disappointment that the will of the United Nations had waned, but was pleased that the heads of the federal government and administration had reached an agreement over the election dispute. This means that the international community wants a transparent election, but the agreed-upon electoral system does not seem to be fair.
He said the United Nations and international partners have been campaigning for the election of a person and a voice, according to the Somali constitution, but recent meetings of Somali leaders in Dhusamareb and Mogadishu have signed an agreement on alternative elections.
Read Also | Turkey first spoiler of the peace in Libya
He also noted that the recent agreement reached in Mogadishu on the election had the support of many political stakeholders in the country, according to the statement, but he expressed disappointment with the agreement, which appears to be self-interested which does not represent Somalia's democracy and progress.
but as Somalia looga sea, saving the jawhareer political influence. However, there are still concerns that the election will not take place on time due to circumstances.
"I believe that Somalia has the right to elect its leaders, and although it has not been possible to elect using one person and one vote, I am hopeful that this electoral process will take place. No one wants Somalia to fall into political chaos," he said.
He stressed that the choice of alternative solutions does not only support Somalia but it is just to save the country against political confusion. However, there are still concerns that the election will not take place on time due to circumstances.
Finally, he said he was hopeful that areas where the agreed electoral process would be straightened out, including the quota for women (30%) in the federal parliament and the selection process become inclusive.