How Israel failed to launch investigations into Gaza protests shootings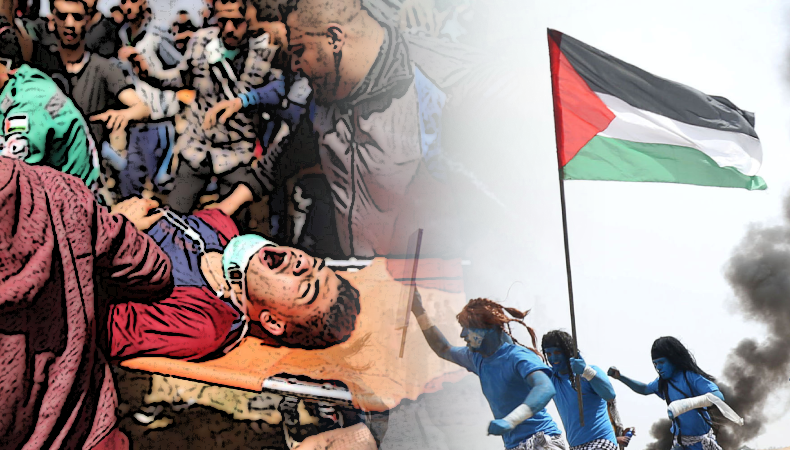 Israel– Recent years have seen accelerated violent protests at the Gaza frontline with shootings that wounded thousands and killed more than 200 Palestinians. But Israel has failed to investigate these shootings, rights groups said on Thursday. This further strengthens the case for intervention by International Criminal Court (ICC) into the lapse by Israeli government.
Military of Israel has rejected the allegations by rights groups saying that Gaza's militant group Hamas had organized the "mass riots" in an aim to provide cover for cross-border attacks carried out by them. Military further added that violations were investigated aptly and responsible soldiers were thereby held accountable.
Gaza activists started organizing weekly protests, beginning in March 2018, with the purpose of bringing plight and suffering of Palestinian refugees to the forefront. But soon after, Hamas group that rules Gaza Strip, took over the protests and conveniently used them to push for easing and even lifting off of blockade by Israel and Egypt on the region. For about 18 months since then, thousands of Palestinians have gathered at various protests points in the region every week, pushed by Hamas. The protests were violent in nature burning tires, hurling bombs and stones, and even tried to breach the security barrier of forces.
In self-defense, as said by Israeli military, snipers from Israel fired live ammunition, tear gas and rubber coated bullets to prevent Palestinians and Hamas operatives from entering Israel.
Fire by Israeli military reportedly killed at least 215 Palestinians, most of them being unarmed. According to Gaza's Al – Mezan Centre for Human Rights, the number included 47 people who were below 18 years of age and two women.
On Thursday, Israeli rights group B'Tselem and the Gaza-based Palestinian Center for Human Rights released report that stated Israeli military failed to investigate the probe orders by commanders and thus taking no action against the soldiers. A fact finding system in Israel said that as of April, 95 cases for investigations were closed with no action out of 143 that were transferred to military prosecutors. Only once case led to an indictment – killing of 14 years old Palestinian. The indicted soldier was found guilty of "abuse of authority to the point of endangering life or health" in a plea bargain and was sentenced to one month of community service, the report noted.
Earlier this year, the ICC had launched an investigation into potential war crimes that were committed by Palestinian militants and Israel in Gaza Strip since 2014. Israel has rejected the investigation calling the system biased towards it. It is to be noted that though Israel is not party to ICC, its officials can be arrested in other countries if ICC releases arrest warrants.
On the other hand, Israel can fend off the investigations if it launches its own "credible investigation". But according to the rights groups, Israel has failed in that section by not credibly investigating the allegations. "Its investigations consist entirely of the military investigating itself and have not examined the unlawful open-fire policy regulations handed down to security forces or the policies implemented during the protests," they said. "Instead, they focus exclusively on lower-ranking soldiers and on the question of whether they acted contrary to these illegal orders."