In a mass shooting in central Israel, a gunman murders five people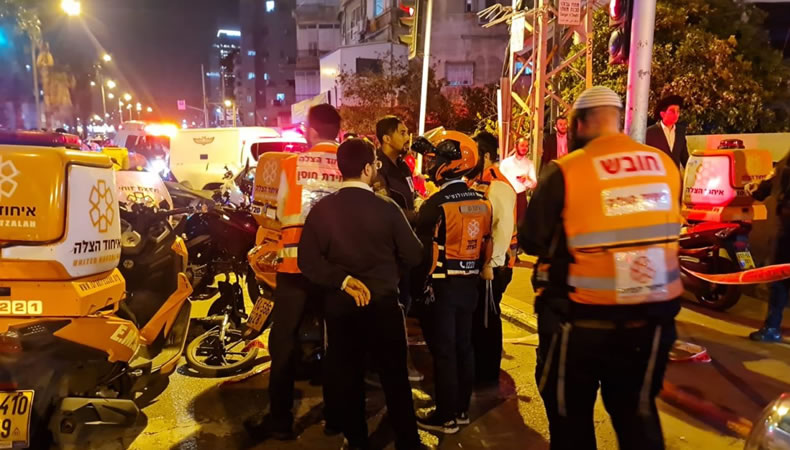 Israel–In the second mass shooting rampage this week, a shooter on a motorbike opened fire in a busy city in central Israel late Tuesday, methodically mowing down victims as he killed at least five people. Police shot and killed the shooter.
The shooting looked to be the latest in a series of attacks by Arab assailants in the run-up to Ramadan, the Muslim holy month, and the one-year anniversary of the Gaza war. The assailant, according to Israeli media, was a Palestinian from the West Bank. The previous two incidents, which were carried out by Arab Israeli residents inspired by the Islamic State terrorist group, have sparked fears of more violence.
Prime Minister Naftali Bennett warned that Israel "stands before a tsunami of horrific Arab terrorism." He promised to fight it "with tenacity, tenacity, and an iron hand." He convened an emergency meeting of top security officials and scheduled a Security Cabinet meeting on Wednesday. Israeli police are still trying to figure out if the assaults were coordinated or carried out by individuals. The Israeli military said it will send more troops to the West Bank, while the police commissioner said the country's preparedness level had been boosted to its maximum level.
Related Posts
On Israeli television, amateur camera footage appeared to show a shooter wearing a black shirt and wielding an assault weapon halting a moving vehicle and shooting the driver. Another image showed him following a bike, with his rifle jamming as he attempted to fire. The gunshots took place at two sites in Bnei Brak, an ultra-Orthodox enclave east of Tel Aviv, on Tuesday. According to police, the attacker was armed with an assault weapon when he started fire on bystanders before being shot by policemen on the site. Five individuals were murdered, according to the Magen David Adom ambulance service. One of the casualties, according to officials, was a police officer who arrived on the scene and confronted the gunman.
On Twitter, Israel Defense Minister Benny Gantz stated that the security forces "would work with all means" to restore security to Israeli streets and provide residents a sense of security. According to Israeli media, the suspected gunman was a 27-year-old Palestinian man from Yabad in the northern West Bank. The suspect's identity was not immediately revealed by the police.
Palestinian President Mahmoud Abbas condemned the attack in the Israeli-occupied West Bank, saying that killing civilians, whether Israeli or Palestinian, "only leads to further deterioration of the situation and instability, which we all strive to achieve, especially as we approach the holy month of Ramadan and Christian and Jewish holidays." "Permanent, comprehensive, and just peace is the shortest way to provide security and stability for the Palestinian and Israeli peoples," he said, adding that the violence "confirms that permanent, comprehensive, and just peace is the shortest way to provide security and stability for the Palestinian and Israeli peoples."
The incident was not immediately claimed by any Palestinian factions. Hamas, an Islamist terrorist group, lauded the "heroic action" but declined to claim credit. "God is Great" chants blared from mosques across the Hamas-ruled Gaza Strip in celebration of the attack. Israel has taken attempts in recent weeks to de-escalate tensions and avoid a repetition of last year's 11-day battle between Israel and Hamas, which began with confrontations between Israeli police and Palestinian protestors in Jerusalem.
However, the recent wave of violence is making things much more difficult. Two young police officers were slain in a shooting spree in the central city of Hadera on Sunday, and four people were killed in a vehicle ramming and stabbing incident in the southern city of Beersheba last week. In a sweep spurred by recent fatal assaults, Israeli security forces raided the homes of at least 12 Arab Israelis and detained two people suspected of having links to the Islamic State. Bennett had declared only hours before the raid that previous attacks within Israel had created a "new scenario" that necessitated increased security measures.
According to law enforcement sources, 31 residences and places in northern Israel were examined overnight, including the home of the shooters who carried out the Hadera attack. The Islamic State claims credit for the prior two assaults. All of the incidents occurred in the run-up to Ramadan, which begins later this week, and as Israel hosted a high-profile conference between the foreign ministers of four Arab countries and the US this week.
The deaths were denounced by Egypt, Morocco, Bahrain, and the United Arab Emirates, as well as the United States. Ramadan is set to start on Saturday. IS assaults within Israel, as well as attacks by Arab Israeli residents, are uncommon. The organization mostly works in Iraq and Syria, where it has lately increased attacks on security troops. It no longer has any authority over land and instead relies on sleeper cells to function. IS has claimed responsibility for previous assaults against Israeli forces and has branches in Afghanistan and other countries.