KFH's Digital Advancements: Leading in Financial Innovation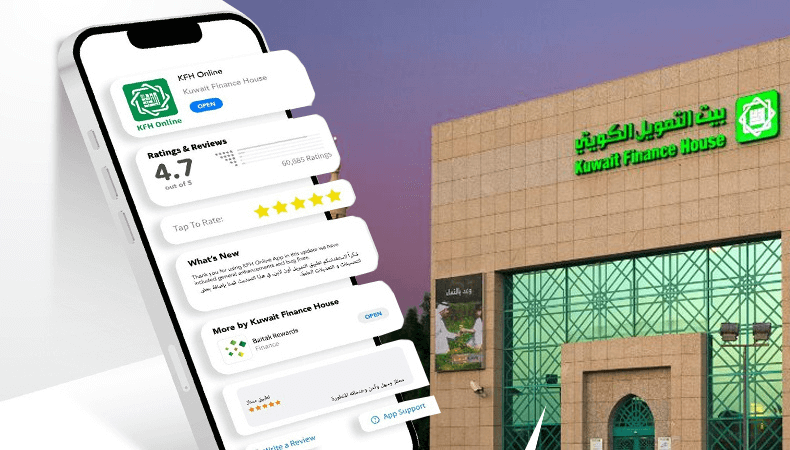 The digital transformation plan of Kuwait Finance House (KFH) has advanced significantly, with a steady rise in client involvement thanks to online banking services.
The growing popularity of KFH's digital platforms highlights the company's position as a market leader, offering cutting-edge financial solutions that reinvent the consumer banking experience and give it a competitive edge.
Digitalization Initiatives and Enhanced Customer Services
The digitalization ambitions of KFH include a range of electronic payment services, online account opening, and the issuance of cards with special benefits.
The expansion of hardware features, such as fast card printing and gold transactions, highlights the bank's dedication to exceeding client expectations, boosting operational effectiveness, and fostering financial inclusion.
Key Features of KFH's Digital Services
Customers can access a wide range of interactive banking services from KFH through its KFH Go smart branches, KFHOnline (a mobile application and website), self-service devices (XTMs), and social media platforms.
These services include the instant issuing of checkbooks Oks and banking cards, the purchase and sale of gold, the establishment of accounts, fund transfers, and cardless cash transactions.
All of these services are avail around the clock. Additionally, KFH has launched cutting-edge services like "QR Code Cash Deposit" and "Digital Print" to speed ed cash deposits and lessen the use of paper in transactions.
A Vision for Expansion and Social Responsibility
The goal of KFH is to increase the number of smart branches in Kuwait so that it can serve consumers in all of the country's areas.
The bank is still committed to improving how its services are delivered, utilizing robotics, artificial intelligence (AI), and other alternative channels to give customers better experiences overall.
Keep Reading
Furthermore, KFH's dedication to CSR is demonstrated through initiatives like letting customers electronically request advance salary payments, which show the company's commitment to helping clients who are experiencing financial difficulties.
The constant pursuit of technical innovation by KFH and its strategic focus on digital transformation represent the shifting dynamics of the MENA region's banking sector.
By embracing digitalization and continually improving its digital services, KFH has established itself as a pioneer in offering creative financial solutions that are in line with customer needs and expectations, opening the door for a more technologically cutting-edge and client-focused banking environment.