Tunisia: President Kais Saied Says No Early Elections After Dissolving Parliament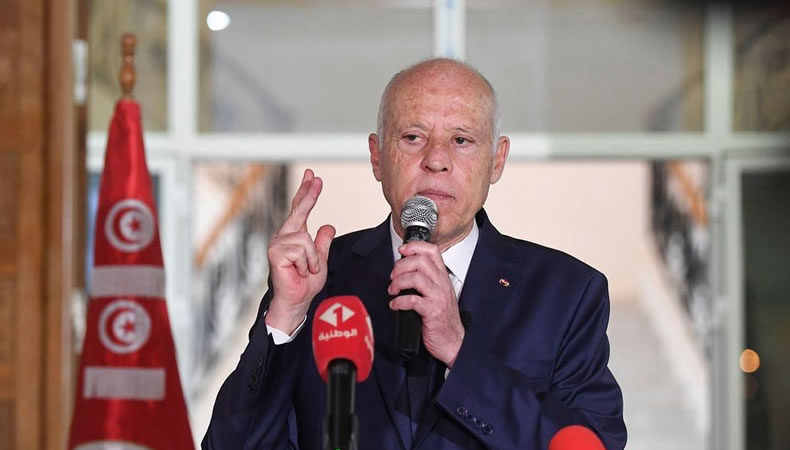 Tunisia-The President of Tunisia, Kais Saied, said late on Thursday that parliamentary elections won't be held within the next three months in the country. A meeting was held on Thursday between Prime Minister Najla Bouden and President Kais Saied. The president's office posted this news on Facebook.
Saied issued a decree on Wednesday dissolving parliament, which has been suspended since last year. Tunisia's main opposition party, the Islamist Ennahda, rejected Saied's move to dissolve parliament. Saied, who was elected in 2019, said that his measures were necessary to fight corruption. However, the Free Constitutional Party, an opposition party, urged Saied to call early elections following the dissolution of parliament. Earlier, Saied said that he would proceed with drafting a new constitution, which will be put to a referendum on July 25. He said that he will hold elections in December.
Related Posts
Earlier, Saied's opponents accused him of a coup when he suspended the chamber last summer, sacked the government, and took emergency powers. Subsequently, his opponents labelled the moves a "coup" against democracy. Since then, the parliament building has been closed by security forces. Opposition political parties and civil society groups continue to reject Saied's "monopoly of power" in the country. The standoff between the president and parliament has affected Tunisia. Reportedly, Tunisia's powerful UGTT union on Thursday welcomed the decision to dissolve parliament. However, the union urged an end to Saied's accumulation of powers and a return to the democratic path.
Reportedly, on Wednesday, 123 MPs took part in the online session of parliament. Some 116 MPs voted in favour of a law intended to invalidate Saied's power grab. Saeid described the planned virtual sessions as "illegal" meetings. The assembly's speaker, Rached Ghannouchi, head of the Islamist-inspired Ennahdha party, called for a plenary session on Wednesday. UGTT trade union also criticised parliament's planned meetings.