Vienna Talks: US says Iran nuclear deal is possible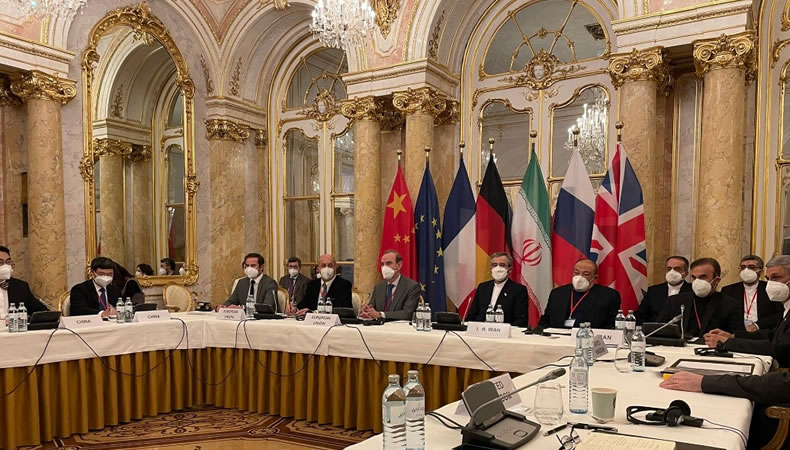 Iran– On the eve of new negotiations, the US said Monday that a deal with Iran on its nuclear program was achievable, but that it needed to be concluded quickly since Tehran is improving its capabilities. After being paused at the end of last month, the talks, which will be attended by China, France, Germany, Russia, the United Kingdom, Iran, and the United States, will restart in Vienna.
They come as parties touted progress in recent weeks in their efforts to resurrect the 2015 agreement, which was designed to prevent Iran from developing an atomic weapon, a goal it has long denied pursuing. "A solution that solves both parties' basic concerns is in sight," a US State Department spokeswoman said, referring to the 2015 framework agreement. "However, if it is not achieved in the next weeks, Iran's continued nuclear developments will make it difficult for us to return to the JCPOA."
Parties have been negotiating in Vienna since last year, with the United States participating in an indirect way. In 2018, former US President Donald Trump unilaterally withdrew from the pact and reimposed harsh economic penalties on Iran, causing the Islamic republic to move away from its promises under the agreement and ramp up its nuclear programs. The answers that "the United States presents tomorrow to Vienna will decide when we may achieve a deal," according to Iranian Foreign Ministry spokesman Saeed Khatibzadeh. "We have made tremendous progress in numerous areas of the Vienna discussions," Khatibzadeh told reporters, notably on pledges that a new US government will not break the accord again.
Related Posts
'A pivotal time'
According to experts, the Iranians have strayed so far from the 2015 deal's constraints that they are only weeks away from possessing enough fissile material to build an atomic bomb. In this last stretch, Washington has pushed for direct discussions, while Iran has requested that conversations remain indirect. In an interview with the Washington Post published Monday, German Chancellor Olaf Scholz termed it "the pivotal moment." "We sent a clear message to them," he continued, "that now is the moment for choices and development, not for extending the process." "We hope they take advantage of the opportunity."
In an interview published Monday by the Russian daily Kommersant, Russian negotiator Mikhail Ulyanov remarked, "We are five minutes away from the finish line." "The final document's draft has been created. There are a few areas where further work is needed, but the paper is already on the table "He went on to say more.
On Friday, Washington took a symbolic move by declaring the lifting of sanctions on Iran's civil nuclear program, which is a technical need for resuming the 2015 Joint Comprehensive Plan of Action, or JCPOA. In the spirit of promoting safety and non-proliferation, the waiver permits foreign nations and firms to engage in Iran's civil nuclear program without triggering US sanctions.
In a joint statement released Saturday, British, French, and German negotiators said the action "should assist technical discussions essential to support talks on the JCPOA's resumption in Vienna." The move, however, fell short for Iran. In a tweet, Ali Shamkhani, secretary of Iran's Supreme National Security Council, stated, "Real, effective, and verifiable economic advantage for Iran is a crucial prerequisite for the formulation of a deal."
"Removing sanctions for the sake of lifting sanctions is not regarded as a positive endeavour." Shamkhani stated on Sunday that the Vienna negotiations had so far failed to generate "balance" in Washington and Tehran's promises. "Despite minimal progress in the #ViennaTalks," he tweeted, "we are still far from establishing the essential balance in the parties' promises."