Thousands Attend Mass Prayer In Show Of Force By Iraq Cleric Sadr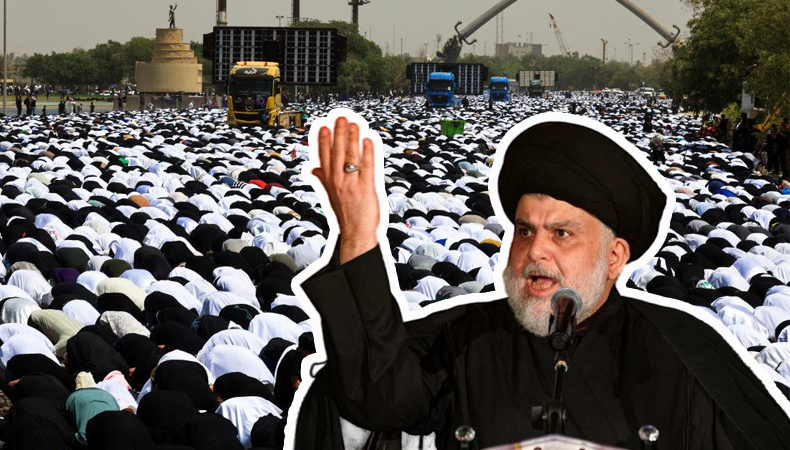 Iraq–Thousands of people attended mass prayers on Friday in Baghdad's Green Zone in a show of force by Iraqi Shiite cleric Muqtada al-Sadr after his supporters backed his call for early elections.
People gathered on a vast square inside the Green Zone, home to foreign embassies, government, and diplomatic buildings, including the parliament, which al-Sadr followers began occupying on July 30 in a bid to call for an early election. Al-Sadr followers chanted during the prayers, "Yes, yes to reform! No, no to corruption."
In a show of strength, al-Sadr had called on his followers to pray inside the Green Zone. His supporters stood in the summer heat. After the prayers, they returned to the vicinity of parliament.
A similar prayer call from al-Sadr in mid-July drew hundreds of thousands of worshippers to Sadr City. They also called for early elections. Al-Sadr, a former anti-US militia leader, is immensely popular in the country.
Related Posts
Political crisis in Iraq
Muqtada al-Sadr has been in a political standoff for months with a rival Shiite alliance backed by Iran. The last election took place about 10 months ago. Al-Sadr's party was the biggest winner in last October's general election. He secured 73 of the Parliament's 329 seats in the national election. Since then, post-election negotiations between al-Sadr's bloc and other factions have failed to form a new government in the country.
In June this year, his 73 lawmakers resigned en masse amid a political dispute over the formation of a government. That led to a rival Shiite bloc, the pro-Iran Coordination Framework, becoming the largest in the legislature. The resignations of 73 lawmakers came after the Iran-aligned Shiite blocs opposed Sadr's government formation initiative.
The political crisis over the formation of the new government has already affected the country as Iraq has significant food security concerns. The country has also suffered from poverty, corruption, and unemployment.